Description
Powerful, efficient and super silent: grinds coffee beans for 12 cups of drip coffee in 15 seconds with minimum grinding noise

Innovative technology: patent Pending vortex spin technology pulls ingredients into the blades for fast and efficient grinding

Versatility: 3-in-1 grinder for coffee, spices, and dry herbs. Effortlessly grinds whole coffee beans, hard spices like whole peppercorns, and dry herbs for flavorful meals

Large capacity and dishwasher safe: the removable dishwasher-safe stainless-steel grinding bowl. Holds ground coffee For up to 12 cups of drip coffee!

Mess-free: the removable bowl comes with a dedicated storage lid that seals the grinding bowl to perfectly store your freshly ground coffee, dry herbs, or spices!

Easy one Touch operation: continuous and pulse grinding
From the manufacturer
The quietest Silent Vortex Electric Grinder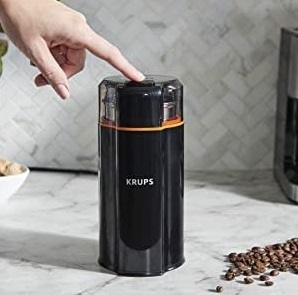 The Silent Vortex 3-in-1 Grinder is quiet and powerful
Innovative Vortex Spin Technology grinds beans for up to 12 cups of drip coffee in only 15 seconds. The Silent Vortex 3-in-1 Grinder helps make your morning coffee a snap and is ideal for crushing dry herbs and spices with impressive efficiency. Take your culinary game to the next level by grinding your own fresh spices and transform your recipes by creating delicious rubs for summer barbecues to aromatics holiday cooking, or even add an extra jolt to a morning smoothie.
3-in-1 Grinder for Coffee, Spices, and Dry Herbs

Effortlessly grinds whole coffee beans, dense spices such as whole peppercorns, and dry herbs, for the most flavorful coffees and dishes.

Patent Pending Vortex Spin Technology

The powerful unique Vortex Spin Technology pulls the ingredients into the blade instead of projecting them on the sides. This allows efficient and fast grinding.

Easy-to-Use Removable Grinding Bowl

The Silent Vortex 3-in-1 is easy to clean as it conveniently features a removable dishwasher-safe stainless steel grinding bowl.

Storage Lid

The removable bowl comes with a storage lid that seals the grinding bowl to perfectly store your freshly ground coffee, dry herbs, or spices!
Fresh Spices and Dry Herbs

Take your culinary game and health goals to the next level by grinding your own spices and herbs. Think summer barbecue, Holiday roasts, nutritional shakes, and more!

Dishwasher safe stainless steel grinding bowl

The removable grinding bowl is dishwasher safe, along with the dedicated storage lid.

Quiet Grinding

The most quiet grinder from Krups. 5x more silent than KRUPS F2034251 Spice and Coffee Grinder .

One Touch Operation

Easy one touch operation allows for continuous and pulse grinding for optimum performance.
Payment & Security
Your payment information is processed securely. We do not store credit card details nor have access to your credit card information.