Description
8 cup capacity
Includes rice rinser/steam basket
Cook & steam food at the touch of a button
Make rice, whole grains, hot cereal, steamed vegetables & much more
Perfect for one-pot meals

Dishwasher safe, nonstick pot

Countdown timer and automatic keep warm after cooking
Product Dimensions:

8.25 x 9.74 x 9.88 inches
1 Year Warranty
From the manufacturer

The 2-in-1 steamer basket can also be used to rinse grains before cooking, which prevents clumping and results in a fresher taste.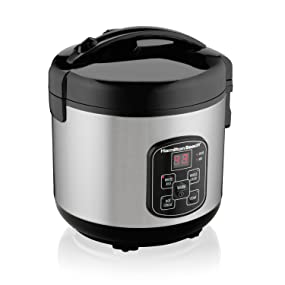 Hamilton Beach products are thoughtfully designed to make your life easier. We use consumer insights, in-depth research to deliver the best solution to your everyday needs.
Whether it's preparing delicious meals and beverages effortlessly, or making your clothes look their best, you can count on the brand that has spent over 100 years creating products with you in mind.
Hamilton Beach Digital Programmable Rice Cooker & Food Steamer, 8 Cups Cooked (4 Uncooked), With Steam & Rinse Basket
Prepare nutritious and delicious meals with minimal effort.
Making a complete and balanced meal in the Hamilton Beach Rice Cooker and Steamer is as easy as placing the ingredients in the bowl and turning it on. Not only does it cook rice and whole grains perfectly, but an integrated basket can be used to steam seafood, poultry and vegetables even while the rice cooks below. That means with just a few presses of a button, it's quick and easy to serve salmon with kale and quinoa one night and chicken and broccoli over white rice the next.
8 cup capacity

Includes rice rinser/steam basket

Cook & steam food at the touch of a button

Make rice, whole grains, hot cereal, steamed vegetables & much more

Perfect for one-pot meals
Features:
Healthy Meals in a Flash

Make a complete, nutritious dinner in one cooking cycle. Steam seafood, poultry or vegetables in the steam basket while the rice cooks, or steam them on their own. The rice maker can handle up to 8 cups of cooked rice.

Breakfast to Dinner with the Push of a Button

Four preprogrammed settings include white rice, whole grains, steam and hot cereal. A countdown timer displays the remaining cook time, and a warm function automatically keeps food warm after the cook cycle is complete.

2-in-1 Rice Rinser/Steam Basket

Rinsing rice before cooking helps prevent clumping and creates a fresh taste. Now it's simple to do with the included steam basket that doubles as a rice rinser.

Included Accessories

In addition to the rice rinser/steam basket, the Hamilton Beach Rice Cooker and Steamer also includes a measuring cup for the perfect water to rice or grain ratio. A serving paddle makes it simple to dish up your meal.