Description
The brushed stainless steel Cuisinart's Vertical Waffle Maker takes up less room on the counter while making foolproof perfect Belgian waffles. Just add your favourite batter through the spout up to the fill line for consistent waffle thickness, top to bottom and side to side, that won't spill over the edges. Indicator lights and an audible alert, plus five browning levels, guarantee crowd-pleasing waffles are perfectly baked for all your family and friends.
FEATURES
Unique design ensures no batter leakage
Vertical advantage requires less counter space, easy to store
Uniform waffle thickness and colour
Brushed stainless steel cover
Ready to bake/ready to eat indicator light
Heats fast and cooks fast, for perfect results
Bonus measuring cup included ensures a perfect fill
Bakes one round Belgian waffle
SPECS AND MANUALS
UPC Code:

068459147806

Unit LxWxH:

7.50" x 6.50" x 12.20"

Unit Weight:

8.77 

lb
Box LxWxH:

7.88" x 11.38" x 13.25"

Warranty: Limited 3-Year Warranty
RECIPES
Savory Potato Waffle
Recipe submitted by: Jen Zigizmund
Servings: 4
Ingredients:
4 medium sized potatoes
3 eggs
1 tablespoon of olive oil
Salt and pepper to taste
Green onions for topping – optional
Instructions:
Peel and cube potatoes. Add to pot of boiling water and cook until tender. Once the potatoes are cooked, drain the water and let the potatoes cool. Add the potatoes with the rest of the ingredients to a food processor and blend until smooth. Use as a you would waffle batter and cook in your waffle maker for 7 minutes. Top with green onions or any herbs of your choice and enjoy!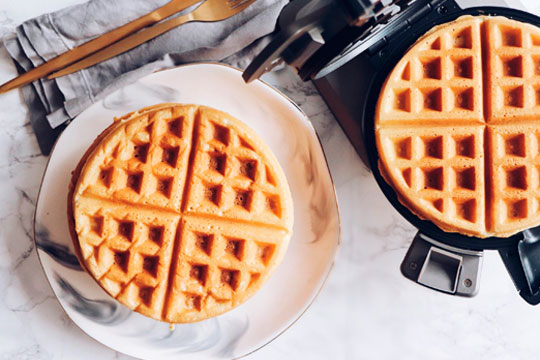 Waffle Cake
Recipe submitted by: Jen Zigizmund
Servings: 2
Ingredients:
Frosting:

1 cup of heavy whipping cream
1 ½ cup semi sweet chocolate chips
Waffle:
1 3/4 cup all purpose flour, or sub for gluten free
2 tablespoon baking powder
Pinch of salt
3 eggs
¼ cup of coconut or avocado oil
1 1/2 cups milk or milk replacement
Instructions:
Waffle:
Mix all dry ingredients thoroughly in a large bowl. Add eggs, milk and oil mix with the dry ingredients. Spoon batter into the waffle maker and cook until nice and golden. Let the waffles cool.
Frosting:
Bring heavy whipping cream to a gentle simmer on a low heat. Add chocolate chips and stir in until melted. Take off the heat and let it cool. Once cooled, beat using hand held or stand mixer for 5 – 7 minutes on medium speed.
Assembly:
Layer frosting between the waffles. Make sure that both your waffles and frosting are cooled down to
avoid melted frosting! Decorate with berried or cocoa powder or serve as is. This tastes best at room temperature!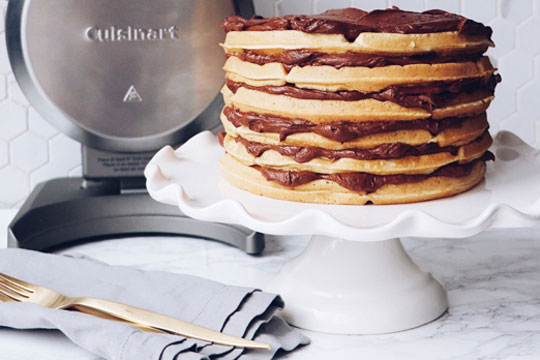 Chocolate Waffles
Kids will love having chocolate for breakfast, but these waffles also make a delicious dessert when topped with whipped cream or ice cream and berries.
Servings: Makes 6 waffles
Ingredients:
2 cups (500 ml) unbleached, all-purpose flour
½ cup (125 ml) granulated sugar
2/3 cup (150 ml) unsweetened cocoa powder, sifted
2 teaspoons (10 ml) baking powder
½ teaspoon (2.5 ml) baking soda
½ teaspoon (2.5 ml) kosher salt
½ teaspoon (2.5 ml) ground cinnamon
2½ cups (625 ml) buttermilk
2 large eggs
1 teaspoon (5 ml) pure vanilla extract
1/3 cup (75 ml) vegetable oil
½ cup (125 ml) semisweet mini chocolate morsels
Instructions:
Combine the flour, sugar, cocoa powder, baking powder, baking soda, salt and cinnamon in a large mixing bowl; whisk to blend. In either a large measuring cup or separate mixing bowl, combine the liquid ingredients and whisk to combine. Add to the dry ingredients and whisk until smooth. Fold in the morsels.
2. Preheat the waffle maker to desired setting (a tone will sound when preheated).
3. Pour a scant cup of batter through the top of the spout. When tone sounds, the waffle is ready. Carefully open the waffle maker and remove baked waffle. Close waffle maker and repeat with remaining batter. For best results, serve immediately.
Nutritional information per waffle:
Calories 503 (37% from fat) • carb. 69g • sugars 33g • pro. 12g • fat 21g • sat. fat 6g • chol. 66mg • sod. 523mg • calc. 129mg •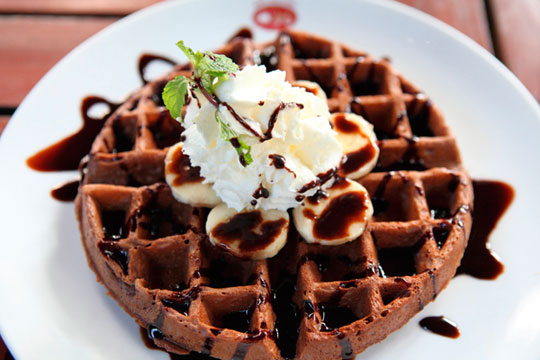 VIDEOS