Description
Cuisinart introduces a new way to make authentic cold brew coffee – in as little as 25 minutes! Like traditional cold brewers, the Automatic Cold Brew Coffeemaker saturates coffee grounds in cool water, never exposing them to the high temperatures that release oils which can create an acidic taste. Unique spin technology circulates coffee through water for total flavour extraction in a fraction of the time manual brewers require. Results are naturally smoother and sweeter! Three flavour strength options provide a customized coffee experience unique to cold brew and coffee can be refrigerated in the 7-Cup glass carafe for up to two weeks. The carafe and all removable parts are dishwasher safe for quick and easy cleanup.

FEATURES:
The fastest way to cold brew, makes ready-to-drink cold brew coffee in as little as 25 minutes
Elegant 7-Cup glass carafe can be used to store coffee in refrigerator for up to 2 weeks
One-touch strength selector for mild (25 min), medium (35 min), and bold (45 min)
3 filter system: brew basket / coffee outlet / carafe lid
Clear brewing chamber
Coffee release lever with indicator light
1L removable water tank capacity
Removable filter basket for easy cleaning
All removable parts are dishwasher safe
SPECS AND MANUALS
UPC Code: 068459170750
Unit LxWxH: 8.875" x 11.75" x 15.25"
Unit Weight: 6 lb
Box LxWxH: 11.65" x 8.90" x 15.28"
Warranty: Limited 3-Year Warranty
RECIPES
Recipe submitted by: Brittney DesRosiers
Ingredients:
1 cup cold brew coffee
3 tbsp ice cream(vanilla, vanilla bean or mint flavours taste delicious with coffee)
Instructions:
1. Using Cuisinart's Automatic Cold Brew Coffeemaker, brew coffee according to instructions. While coffee is brewing, place 3 tbsp. of ice cream in a small bowl and let it melt.
2. Pour coffee into a glass, add melted ice cream and stir.
Enjoy your refreshing cold brew!
Recipe submitted by: Jen Zigizmund
Ingredients:
1 banana, frozen
1 cup of cold brew
¼ cup of raw cashews
1 tablespoon chia seeds
2 Medjool dates
Instructions:
1. Soak dates, cashew nuts and chia seeds in one cup of cold brew overnight or at least few hours. This step is optional but will increase nutritional value of the chia seeds + nuts and will result in a smoother and creamier smoothie!
2. Place the cold brew coffee in a blender, combine the banana + dates and mix until smooth and creamy.
Ingredients:
6 ice cubes*
2 ounces canned coconut milk (or 4 ounces shelf stable coconut milk)
8 ounces

 

cold brew coffee

 

(or 6 ounces if using shelf stable coconut milk)
Sweetener (optional)
Flaked coconut, for garnish (optional)

*For a more intense iced coffee experience, use coffee ice cubes. To prepare, fill a clean ice cube tray with coffee and freeze overnight. When they melt, your coffee will not be diluted.
Instructions:
1. Put all of the ingredients into a chilled tall glass. Stir in sweetener and top with flaked coconut, if using.
2. Serve immediately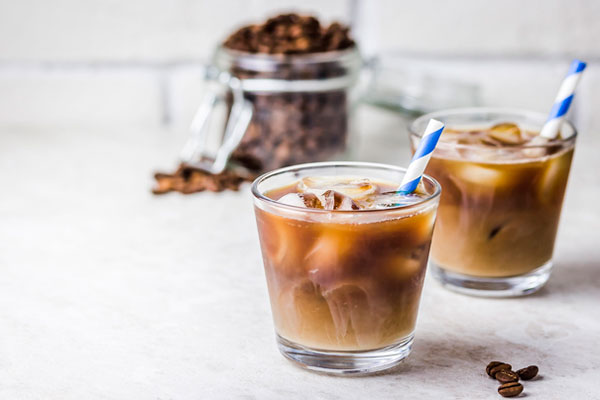 VIDEOS
Payment & Security
Your payment information is processed securely. We do not store credit card details nor have access to your credit card information.