Description
The powerful high-speed motor works hard and fast to accomplish small jobs with ease. Chop herbs, onions, garlic; grind spices, hard cheese; purée baby foods; blend homemade mayo and flavoured butter - all in this one compact machine. You have virtually unlimited options with the Cuisinart Elite Collection Chopper/Grinder. Enjoy!
FEATURES
250 watts powers through small food prep tasks
Auto-reversing Smartpower blade
Bladelock System locks in place for easy pouring after processing
SPECS AND MANUALS
UPC Code: 068459261380
Unit LxWxH: 7.75" x 5.50" x 9.50"
Unit Weight: 3.5 lb
Box LxWxH: 8.38" x 5.63" x 9.75"
Warranty: 18-Month Warranty
RECIPES
A favourite for dressing pasta, and also wonderful on steamed potatoes and vegetables. You can vary your pesto by using other herbs such as cilantro, mint or parsley and by using other nuts such as almonds, pecans or walnuts.
Servings:
Makes about ¾ cup (175 ml)
Ingredients:
1 ½ ounces (43 g) Reggiano Parmigiano, cut into ½ inch (1.25 cm) cubes
½ cup (75 ml) toasted pine nuts
2 garlic cloves, peeled
¾ teaspoon (3.75 ml) kosher salt
1 ½ cup (375 ml) packed fresh basil leaves
½ cup (125 ml) extra virgin olive oil
Instructions:
Place the cheese in the 4-Cup Chopper/Grinder; pulse on Chop 5 times; process continuously on Chop until finely ground, about 10 seconds. Remove and reserve.
Add nuts to the work bowl; pulse on Chop 5 times. Remove and reserve with the cheese.
Add the garlic and salt to the work bowl; process 5 seconds on Chop. Scrape the work bowl. Add the basil leaves and half of the olive oil. Pulse on Grind 10 times then grind continuously for about 15 seconds; scrape the bowl. With the machine running on Grind, add the remaining oil slowly, in a steady stream, through one of the holes in the recessed area of the cover. After all the oil has been added, process on Grind for an additional 10 seconds. Add the reserved cheese and nuts to the mixture; pulse 10 times on Chop to blend.
Transfer pesto to an airtight container. Pesto will keep in refrigerator for up to a week. It may also be frozen.
Nutritional information per serving (1 tablespoon [15 ml]):
Calories 120 (91% from fat) • carb. 1g • pro. 2g • fat 13g • sat. fat 2g • chol. 5mg • sod. 200mg • calc. 52mg • fiber 0g
Ingredients:
Veggie Fries
2 Heirloom Carrots – peeled, trimmed and batonnet cut
2 Parsnips – peeled, trimmed and batonnet cut
2 Turnips – peeled, trimmed and batonnet cut
2 Yellow Beets – peeled, trimmed and batonnet cut
2 Red Beets – peeled, trimmed and batonnet cut
5 sprigs of Fresh Thyme – stripped
2 Limes – sliced into wedges
3 tbsp. (45ml) Extra Virgin Olive Oil
Flaked Sea Salt to taste
Fresh Ground Black Pepper to taste
Chipotle Mayonnaise
1 cup (250ml) Mayonnaise or Greek Yogurt
2 Chipotle Peppers – finely chopped
1 tbsp. (30ml) Adobo Sauce
1 Lime Zest and Juice
Flaked Sea Salt to taste
Instructions:
Veggie Fries
Set the Chef's Convection Countertop Oven to Roast at 450°F (232°C) for 30-45 minutes with the rack in position 2
During preheating, toss all of the ingredients into a large bowl to coat with olive oil
Season with salt and pepper, arrange on baking pan irregularly so air can reach all ingredients
Once preheated, place the pan into the oven
Bake for the set time, or until the vegetables are slightly crispy on the outside and tender on the inside, check seasoning
Serve with chipotle mayonnaise and lime wedges
Chipotle Mayonnaise
Combine ingredients in the Cuisinart Elite Collection 4-Cup Chopper/Grinder
Pulse on grind, scrape the work bowl, process on grind until smooth, check seasoning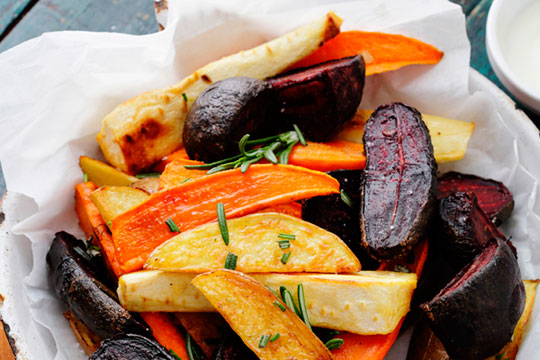 Ingredients:
4 Fresh Nova Scotia Lobster – split in half, tomalley-removed
1 cup (250ml) Fresh Flat Leaf Parsley – leaves picked and fine slice
4 Garlic Cloves – peeled and grated
1 Lemon Zest
1 cup (250ml) Unsalted Butter – softened
2 tbsp. (45ml) Extra Virgin Olive Oil
Flaked Sea Salt to taste
Fresh Ground Black Pepper to taste
Instructions:
Plug in Cuisinart Griddler™ Deluxe, insert integrated drip tray in place
Turn reversible plates with grill sides out
Select 1 of 6 preset heights on adjustable top cover on right of Griddler™ and unlock for charbroiling
Preheat upper and lower plates to 450°F
Combine butter, olive oil, lemon zest, parsley and garlic in the Cuisinart Elite Collection™ 4-Cup Chopper
Pulse on Chop, 10 times, then process for 15 to 20 seconds until smooth
Pierce the lobster head with knife tip, splitting lobster from the head along the shell to the tail
Gently remove the tomalley, place the lobster upright on griddle, season with slat and pepper
Spread compound butter evenly across the entire lobster half
Charbroil on high until shell turn red and top is golden brown, serve with lemon
Cool Griddler, clean with scraping tool, remove plates and wash with soap and water
Remove integrated drip tray, wipe out with paper towel, wash with soap and water