Description
FEATURES
Powerful commercial grade 3.5peak horsepower motor with over load protection
6-prong stainless heavy-duty steel blade assembly
64-ounce (1.9L) capacity BPA-Free Tritan™ja
Variable speed control–1500to25000RPM
Turboboostto30000RPM
BlendLogix smart technology senses load and adjusts speed for even uninterrupted blending
Electronic touchpad controls with LCD display
Programmable memory control and countdown timer
10-year limited motor warranty
Limited3-year product warranty
RECIPES
Recipe submitted by: Jen Zigizmund
Ingredients:
1 inch fresh ginger
2 large sweet potatoes
3 large carrots
2 garlic cloves
1 can (400mL) of coconut cream + 2 cups of water
Salt + pepper to taste
1 tablespoon coconut oil
1/4 cup cashews
1 Lime
Parsley
Chilli pepper
Instructions:
Preheat oven for 400 degrees. Peel sweet potatoes, carrots and cut into small cubes. Peel garlic cloves. Add salt and pepper, tablespoon of coconut oil and roast sweet potatoes, carrots and garlic for 35-40 minutes.
While the veggies are roasting, peel and roughly chop ginger, and then prepare you garnish toppings - thinly slice lime, chilli pepper, chop cashews and parsley.
Once the veggies are roasted and soft, add to blender with canned coconut cream (reserve few tablespoons of coconut cream for garnish), 2 cups of water and ginger. Use soup function on your blender to blend into creamy consistency. Add more water if you like your soups thinner.
Once you reached your desired consistency, taste and add salt if needed. Garnish with the toppings you prepared - lime, chopped parsley, cashews, lime slices, chilli pepper and tablespoon of coconut cream and enjoy.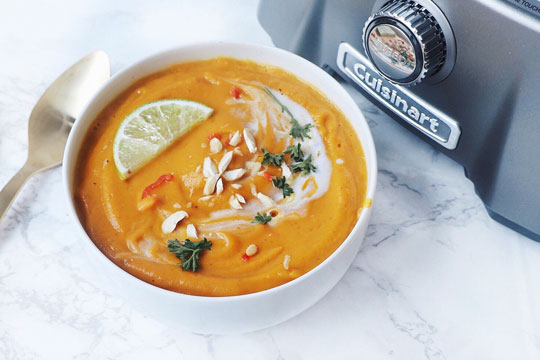 VIDEO
Payment & Security
Your payment information is processed securely. We do not store credit card details nor have access to your credit card information.