Description
The Steam + Convection Oven includes specialty settings that allow you to proof bread, rolls - even homemade pretzels and donuts! The Bread function simulates a professional bread oven on your counter. An initial burst of Steam followed by convection baking yields professional results every time with crispy crusts and perfectly risen interiors.
FEATURES
0.6 cubic ft. capacity
Proof right in the oven & bake faster, with bakery-quality results
Cooks food fast (up to 40% faster than conventional ovens)
Food retains valuable nutrients, vitamins and minerals as well as moisture and freshness
Electronic controls with LCD display
1800 watts of power
9 functions, including steam
Steam clean feature
Unique Steam Bake and Steam Broil functions
Removable Water Reservoir - Holds 47 ounces (1,33 L) of water for up to two hours of uninterrupted steam
All parts that come into contact with food are BPA free
SPECS AND MANUALS
UPC Code:

068459172891

Unit LxWxH:

18" x 15.5" x 10.75"

Unit Weight:

24.2 

lb
Box LxWxH:

22.5" x 17.5" x 14.5"

Warranty: Limited 3-Year Warranty
RECIPES
Maple Pecan Pie
Servings: 8
Ingredients:
Sweet Crust Dough

3 cups (750ml) Unbleached All Purpose Flour
12 tbsp. (180ml) Unsalted Butter – cubed and frozen
1/3 cup (83ml) Vegetable Shortening – cubed and frozen
1/4 cup (63ml)White Granular Sugar
Fine Sea Salt pinch
Ice Water as needed
Maple Pecan Filling


700g Pecan Halves
5 cups (1250ml) Dark Brown Sugar – packed
16 Whole Large Eggs
1 lb Unsalted Butter – melted
5 cups (1250ml) Dark Corn Syrup
1 cup (250ml) Pure Maple Syrup
5 tsp. (20ml) Pure Vanilla Extract
1/4 cup (63ml) Bourbon Whiskey – optional
1 tsp. (4ml) Fine Sea Salt
Instructions:
Sweet Crust Dough
Combine flour, butter, shortening, sugar and salt in a Elite Collection 14-Cup Food Processor, pulse until sand texture
Slowly incorporate ice water, very slowly, adding until dough comes together
Wrap in plastic wrap, pressing flat, refrigerate for ½ hour minimum
Roll out to desired thickness, use rolling pin to transfer to pie plate, trim excess dough
Maple Pecan Filling
Preheat Cuisinart Combo Steam and Convection Oven to 350°F (175°C)
Combine in Precision Master™ Stand Mixer with paddle eggs, brown sugar, butter, salt, vanilla, blend until smooth
Combine bourbon, corn syrup and maple syrup blend together then gently fold in the pecans
Pour into pie shells and bake for 50-60 minutes or until filling sets completely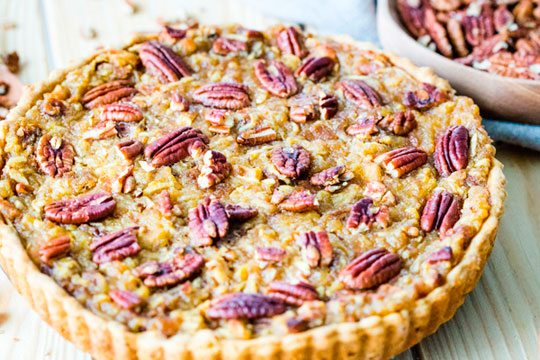 VIDEOS
Payment & Security
Your payment information is processed securely. We do not store credit card details nor have access to your credit card information.