Description
Introducing a healthier way to fry, and so much more! The Cuisinart AirFryer Toaster Oven is a premium full-size toaster oven with a built-in air fryer. That means it not only bakes, broils, and toasts, it also lets you air-fry right inside the oven. Best of all, a large, 4-pound chicken requires only about a teaspoon of oil to fry! Air frying, which uses powerful ultra-hot air, is a healthier way to prepare delicious fried favorites, from wings to fritters to fries to shrimp. And since toaster ovens stay on the countertop, this fryer doesn't have to move back and forth, from cupboard to counter. Enjoy the crunch without the calories and messy cleanup, with the AirFryer Toaster Oven from Cuisinart!
FEATURES
1800 watts of power
AirFry right in oven, for "deep-fry" results with little or no oil
7 cooking functions include airfry, convection bake, convection broil, bake, broil, warm, toast
Large 0.6 cubic foot capacity
Adjustable thermostat, 60-minute timer, toast shade control, auto shutoff
Easy clean non-stick interior
Brushed stainless steel housing
Includes: Oven Rack, Baking Pan, Air Fryer Basket
Large enough to AirFry up to 3lbs, toast 6 slices of bread, bake a 4lb chicken or 12" pizza (11" Pizza Stone sold separately)
SPECS AND MANUALS
UPC Code:

068459164100

Unit LxWxH:

15.50" x 16.00" x 14.00"

Unit Weight:

21.00 

lb
Box LxWxH:

18.12" x 21.00" x 14.75"

Warranty: Limited 3-Year Warranty
RECIPES
Gluten-Free Paleo Fried Chicken
Recipe submitted by: Jen Zigizmund
Servings: 4
Ingredients:
4 chicken thighs and 4 chicken drumsticks. (Chicken breasts can be used as well)
For the marinade
1 teaspoon salt
¼ teaspoon of garlic powder
½ teaspoon black pepper
1 teaspoon paprika (regular or smoked)
2 cups of buttermilk
For the coating
1 cup tapioca flour
1 cup almond flour
1 teaspoon salt
¼ teaspoon garlic powder
¼ teaspoon onion powder
Instructions:
Combine and mix well all the marinade ingredients. Put chicken pieces in a resealable plastic bag or a bowl and pour over the marinade, ensuring that all the chicken pieces are covered well. Marinate in the refrigerator for at least 2 hours - overnight is ideal.
Combine all the coating ingredients well. Take out your chicken from the marinade and shake off access.
You don't want the chicken pieces to be too dry, just shake of the marinade a bit. Dip each chicken peace in the coating mix making sure that all the pieces are covered evenly.
Lay chicken pieces on a tray in single layer, making sure that the pieces don't touch each other. Set your AirFryer to airfry mode, position the tray into position 2 and cook at 400°F degrees for 25 minutes, gently turning chicken once half way. Cook until golden brown and internal temperature reaches 165°F. Let it cool on the cooling rack and enjoy!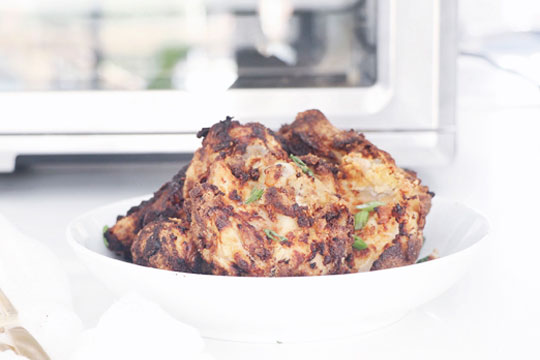 VIDEOS
Payment & Security
Your payment information is processed securely. We do not store credit card details nor have access to your credit card information.