Delivering power, precision and performance, features a 500-watt motor, die-cast metal construction, and 12 speeds that allow for nuance and excellence in performing various preparation tasks. The unit's tilt-back head allows for easy access to its 5.5-quart mixing bowl, while the included splash guard prevents messy countertops. Also included are a chef's whisk, dough hook, and flat mixing paddle. Additionally, you can purchase various attachments for the unit: a pasta roller and cutter, pasta extruder, meat grinder, frozen dessert maker, and spiralizer.
FEATURES
5.5-Quart capacity, polished stainless steel bowl - You can turn out 10 dozen cookies in one big batch & knead up to 11 cups of flour into artisan breads.
This 500 watt motor can tackle anything, from kneading thick bread doughs to effortlessly whipping cream.
One power outlet for optional attachments - With our optional attachments crank out enough pasta to feed the entire family and make deliciously decadent desserts in only 15 minutes.
Die-cast metal construction
12 speeds for precision mixing
59-point planetary mixing action
Tilt-back head
Includes chef's whisk, dough hook, flat mixing paddle, and splash guard with pour spout
Optional Attachments: Pasta Extruder, Pasta Roller & Cutter, Ice Cream Maker, Meat Grinder, and Spiralizer
SPECS AND MANUALS
UPC Code:

068459159663

Unit LxWxH:

 14.17" x 7.87" x 14.13"

Unit Weight:

 17.00 

lb
Box LxWxH:

 16.50" x 11.20" x 15.90"

Warranty: 

Limited 3-year warranty
RECIPE
Recipe submitted by: Truffles On The Rocks
Ingredients:
PASTA DOUGH:
2 ½ cups unbleached all-purpose flour
4 eggs room temperature
1 tbsp olive oil
1 pinch fine sea salt
RAVIOLI FILLING:
1 ½ cup Ricotta cheese
1 ½ cup shredded old Cheddar
¾ cup shredded Parmesan
Fine sea salt and black ground pepper
CONFIT GARLIC MILK:
2 bulbs of garlic
Olive oil
1 ½ cup whole milk
½ cup 35% cream
Fine sea salt and black ground pepper
Instructions:
PASTA DOUGH:
Fix the dough hook on the mixer. Place all the ingredients in the mixer's bowl and put the speed at 3 for the first minute. You may need to help with a spatula to incorporate all the ingredients. Increase the speed to 5 and let it go for 5 minutes.
Place the dough on a work surface and knead by hand for 2–3 more minutes.
Form a ball with your dough and let rest 30 minutes in a plastic wrap at room temperature.
RAVIOLI FILLING:
In a bowl, combine all the cheese and seasoning with the fine sea salt, and black ground pepper. Cover and reserve for later.
RAVIOLI MAKING:
For the pasta sheets, follow the instructions on the stand mixer pasta roller & cutter set attachment. I recommend going on the thinnest setting (#1). You don't want your ravioli too thick.
Put the filling mixture on the dough with a tablespoon or a teaspoon. It depends on the size of the ravioli you want to make. You can use a ravioli maker. For this recipe, it's about 3 inches.
Cover the filling with a sheet of pasta, pressing out the air from around each portion of filling. Press firmly around the filling to seal. Cut into individual ravioli with a round cookie cutter or a knife. Seal the edges.
Repeat the operation until you used all the pasta sheet and filling.
CONFIT GARLIC MILK:
Preheat the oven to 400 °F.
Slice horizontally into the top of a bulb of garlic and spread a bit of olive oil. Wrap the garlic bulbs in aluminum foil. Put in the oven for about 45 minutes. The garlic should have a nice light caramel colour and a soft paste texture.
Remove the skin of the confit garlic and reserve.
On medium-low heat, warm the milk and cream together and add the confit garlic — season with the fine sea salt and the black ground pepper.
With a hand mixer, blend the mixture until you have smooth and creamy milk.
FINAL PREPARATION:
Fill a large pot with lightly salted water and a bit of olive oil. On high heat bring to boil.
Put the ravioli in the boiling water. Cook uncovered for about 4–8 minutes, stirring occasionally. The cooking time always depends on the size of the ravioli you made.
Drain the ravioli in a pasta strainer.
For the serving, place some ravioli in beautiful plates. Drizzle the confit garlic milk on the ravioli and add fresh basil and fresh parsley to garnish. Add a pinch of black ground pepper. Bon appétit!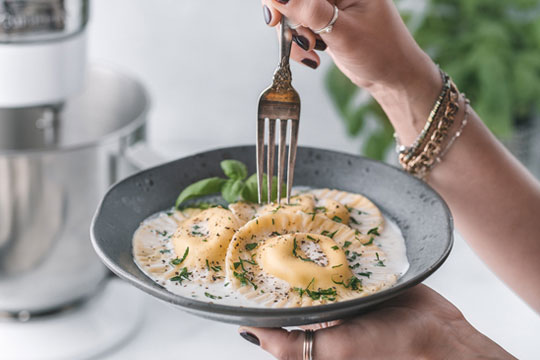 VIDEOS