1500 watts of power for quick heat-up
1.7 L capacity with glass body
Cordless convenience
Overheat and boil dry protection
Extra-large detachable lime scale filter
Energy-efficient integrated steam tube
Elegant stainless steel kettle base with cord wrap
SPECS AND MANUALS
UPC Code: 068459170101
Unit LxWxH: 9.00" x 6.75" x 12.00"
Unit Weight: 11.50 lb
Box LxWxH: 9.50" x 7.00" x 12.50"
Warranty: Limited 3-Year Warranty
RECIPES
Recipe submitted by: exploringhealthyfoods
Ingredients:
1/2 cup oats
1 cups water
1 tbsp maple syrup
Toppings:
1/2 cup your favourite fruit
1 tsp shredded coconut
1 tbsp almond butter
Instructions:
1- Begin by boiling water using Cuisinart Viewpro Glass Kettle.
2- Add oats to a bowl, then boiled water. Stir and let sit for about 2-3 minutes until oats have absorbed water. Then mix in maple syrup.
3- Top with fruit, coconut and almond butter.
Enjoy!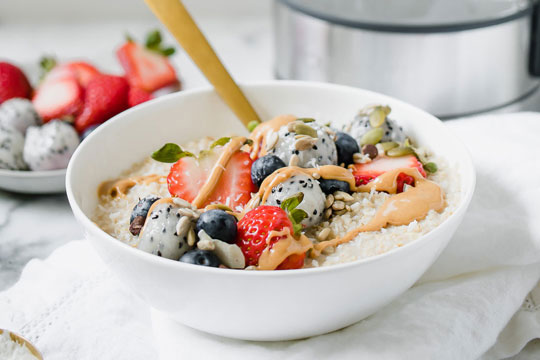 Recipe submitted by: Jen Zigizmund
Ingredients:
¼ cup of blueberries, frozen or fresh
¼ of lemon
1 inch ginger sliced thinly
1 table spoon of dried rose petals
Instructions:
Pour one cup of hot water over the blueberries, lemon, ginger and rose petals. Steep 3 – 5 minutes and enjoy.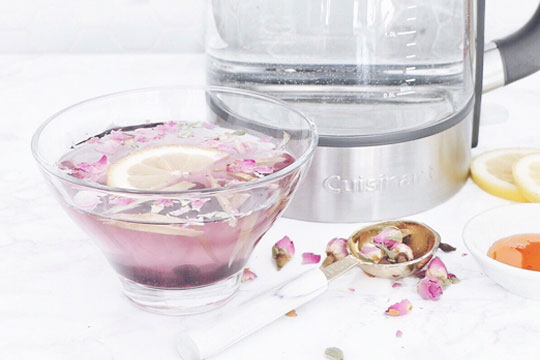 VIDEOS