Even the most demanding chef simply cannot find better cookware quality or durability than what's offered in this deluxe, versatile collection. Its triple ply construction features cores of pure aluminum enveloped by stainless steel and stainless steel handles. The result is exceptional, long lasting performance. From sauté pan and skillet to stockpot and steamer, this set rivals the collection professionals use and includes everything a home chef needs.
FEATURES
Professional Triple Ply Stainless - Three-layer design ensures optimal heat conduction. Interior capacity markings allow for easy measuring.
Exceptional Heat - Heat Surround Technology allows heat to be evenly distributed along the bottom and side walls of the cookware, eliminating hot spots.
The Coolest Touch in Home Cooking - Cast stainless steel Cool Grip stick handles are contoured for a secure grip and designed to stay cool on the stovetop.
Covers Seal in Nutrients - Tight fitting stainless lids seal in moisture and nutrients for healthier, more flavourful results.
Drip-Free Pouring - Rims of cookware are tapered to make pouring clean and easy.
Versatile Performance - Oven safe to 500°F (260°C). Cook on stovetop, in oven, or under broiler. Freezer safe for easy food storage.
11 pc Set Configuration:

1.5 Qt. Saucepan with Cover
2.5 Qt. Saucepan with Cover
3 Qt. Sauté Pan with Cover
6 Qt. Dutch Oven with Cover
9.5" (24cm) Skillet with cover
Steamer Insert (fits 2.5 Qt. Saucepan)
SPECS AND MANUALS
UPC Code: 068459146298
Warranty: Limited Lifetime Warranty
RECIPES
Recipe submitted by: Jen Zigizmund
Ingredients:
3-4 potatoes
4 eggs
2 cups of frozen kale or spinach
3 green onions
Olive oil
Salt + pepper to taste
Instructions:
Peel and cube potatoes. Heat up a pan with one tablespoon of olive oil. Add potatoes and cook for 15 minutes flipping every 5 minutes. Once potatoes are soft, add salt, pepper and greens, mix well and then crack 4 eggs into the pan (leave eggs whole). Cover and cook for 4-5 minutes or until eggs are set. Top with diced green onions and enjoy!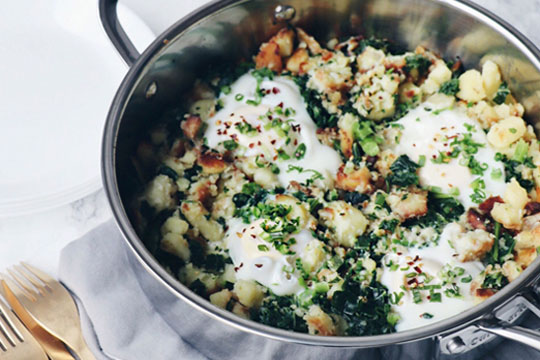 Recipe submitted by: Jen Zigizmund
Ingredients:
1 lbs of green beans
1/4 cup of rice wine
1 tablespoon oyster sauce
1 tablespoon soy sauce
2 tbs. Sesame seed oil
1 lbs of frozen shrimp
2 tablespoons of sesame seeds
Salt and pepper to taste
Instructions:
Add a tablespoon of sesame seed oil in a stainless steel pan and place it on medium heat. Add beans and cook for 4-6 minutes until lightly blistered. Remove beans from the pan and set aside. Heat another tablespoon of sesame seed oil and add the frozen shrimp. Cook for 4-6 minutes or until the shrimp is no longer grey. Add the green beans back into the pan. Add rice wine, oyster sauce and soy sauce and mix well. Cook for another 2-3 minutes and top with sesame seeds.